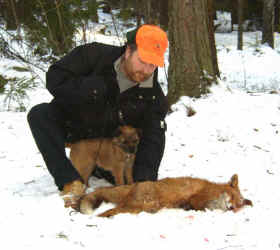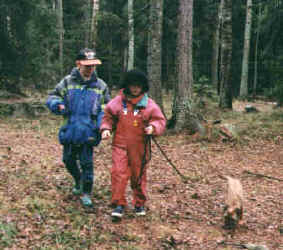 Border Terrier: working Terrier - family pet - "a dog loving any job"
Our first Border Terriers started out as family pets, gradually growing into a wider role at primarily obedience and utility dog trials. Over many years we slowly realized that the Border Terriers that we found the most pleasant in these contexts, also "happened to" do well at earthdog trials.
A good fox-bolter is not a macho fight-seeker, rather the contrary. Hardness to predators has no connection whatever with dog aggression. A working Terrier needs a realistic assessment of it's own capacity, absolute mental stability, courage and intelligence. The dog needs plenty of self control to be able to make level-headed decisions while facing a fox or - at Swedish trials - a badger. A typical Border Terrier is a very pleasant working companion as it relaxes easily when "off duty", loves and can be handled by strangers and is also a good companion to other dogs.
Many of the temperamental qualities needed in a good working Terrier are the same as for dogs excelling in police dog work, and the same qualities that make a Border Terrier a good companion in almost any situation. This, and also the responsibility to stay true to the Border's history, is the reason we use earthdog trials as a temperament test of our dogs and also hope to do more actual fox-bolting work in future.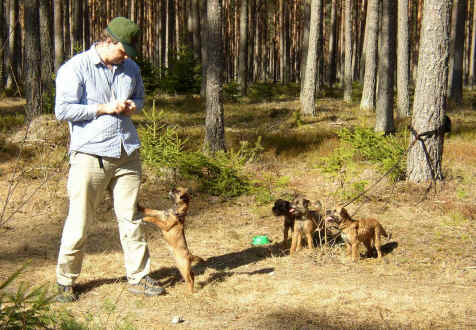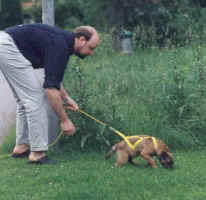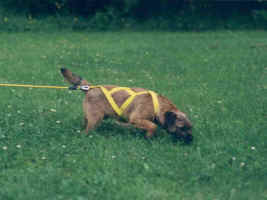 The beauty of a Border Terrier is in it's function, as what the Breed Standard describes is primarily the anatomical qualities of a well built working Terrier. We feel that the Standard represents many years of Terrier man experience, and every part of it - including the recommended size - should be the ultimate goal to a Border Terrier breeder. A Border Terrier of correct size is able to do many things as well as go down a fox den - for example our Ayla, pictured top left with a bolted fox, caught up with and brought down a large roedeer buck which was fleeing to fast for traditional tracking work after a road accident that broke one of his hind legs. Her six kilos are well within the standard.